At NuServe, we're on a mission to champion sustainability in business; one of our ways we're doing this is by making our procurement practices more sustainable. We want to achieve this while working within circular economy principles that minimise waste, pollution and carbon emissions.
This ethos applies to all areas of our business, from cleaning supplies to uniforms.
Environmental price of clothes
The reason? The environmental cost of clothing is huge. From production through to disposal, almost every stage of an item of clothing's life cycle can cause damage to the planet. For example, most of the cotton grown is not organic and contributes to environmental pollution through the use of pesticides and insecticides. Washing clothes releases 500,000 tonnes of microfibres into the oceans every year. That's the equivalent of 50,000 plastic bottles. These microfibres cannot be extracted from the water and so spread throughout the food chain. Then there is the waste.
Since 2000, clothing production has more than doubled to keep up with demand as people buy more clothes but wear them for less time. As a result of our disposable, throwaway society, 350,000 tonnes (around £140 million worth) of used but still wearable clothing ends up in landfill in the UK every year, according to Clothes Aid.
Therefore, we want to do our bit to reduce the clothing industry's impact on the world around us. As part of our Planet Mark and B Corp commitments, we searched long and hard to source eco-friendly uniforms but couldn't find a viable supplier.
Sustainability partners with the hospice
So we approached the Royal Trinity Hospice's Charity Shop to see if they had any second-hand clothing that could be used for our uniforms. Fortunately, a well-known designer brand had donated a load of unsold white shirts to the charity. We purchased 20 for use as part of our uniform for managers.
In so doing, we made a procurement decision that had an economic, environmental and social impact:
We saved money
We helped protect the environment
We supported a charity that provides free specialist palliative and end of life care
"Purchasing office shirts from a charity shop was uncharted territory for both NuServe and Royal Trinity Hospice as this was the first time Royal Trinity Hospice had received a request of this nature,"
"The entire process was seamless (excuse the pun). Royal Trinity Hospice staff understood exactly what we needed and went out of their way to help. We were also lucky that this was a viable solution for NuServe because, as a company, we hit the sweet spot of being dynamic, flexible, and small enough to have our order accommodated without compromising on professionalism and neatness. 
"Businesses do not realise that vapid consumerism means many garments found in charity shops, especially in the case of Royal Trinity Hospice, are firstly quality brands and secondly unworn or near pristine, for a very rewarding price."
-Georgina Lockwood, Sustainability Officer.
Volunteering our time
In addition to offering our financial support, NuServe organised volunteering days for our team at Royal Trinity Hospice's Balham clothing depot, where we sorted donated clothes to be sold across their London charity shops.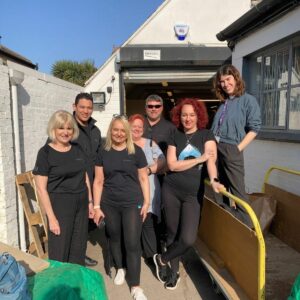 "I felt it worked as a team building experience for all of us- it was lovely to socialise outside of our normal work environment"– Louise Williams, payroll manager.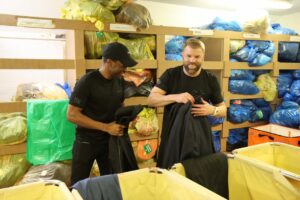 "Few things beat the 'feel-good' feeling that comes from being on the ground, volunteering my time, and knowing that what I'm doing will translate into real help for struggling families in the community" Nicola Jordan, HR Administrator.
Media coverage
Our circular clothing initiative has earned us press coverage across business, cleaning industry, and sustainability journals and even shortlisted us for the Community Engagement Award in the 2022 Planet Mark Awards.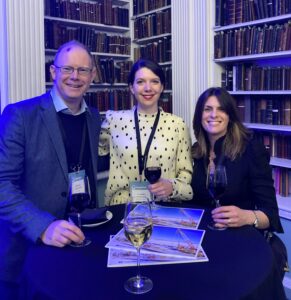 NuServe- practicing sustainability in business
Our sustainability partnership with the Royal Trinity Hospice is ongoing. Our staff benefit from a reimbursement scheme when purchasing work attire from RTH charity shops, and we now collect unwanted clothes from our client sites to donate to the hospice- we collected donated 30 bags of clothing from our clients over the 2022 Christmas season alone.
NuServe is always looking for new ways to collaborate with like-minded companies and the voluntary, community and social enterprise (VCSE) sector. Our collaboration with Royal Trinity Hospice continues as we divert misplaced or forgotten clothing from our clients' offices to the charity shop.