Why we want to make a positive impact
We are living on a planet with finite resources. Up until now, the earth's life-giving eco-systems have sustained humanity and given rise to empires, the industrial revolution, global supply chains and the modern economy we know today, but not without consequence. Earth's most recent geological time period, the Anthropocene, is tainted with extreme weather events: flooding wildfires, species extinction and ocean level rise.
This compounded risk is toppling global supply chains and threatening life as we know it. Business as usual is no longer an option; we are all grappling with new operational concerns as a result of climate change. We believe business has a duty to avoid the depletion of natural resources for the sake of future generations. We also believe business can be used as a source for good and that environmental agendas work hand in hand with social agendas.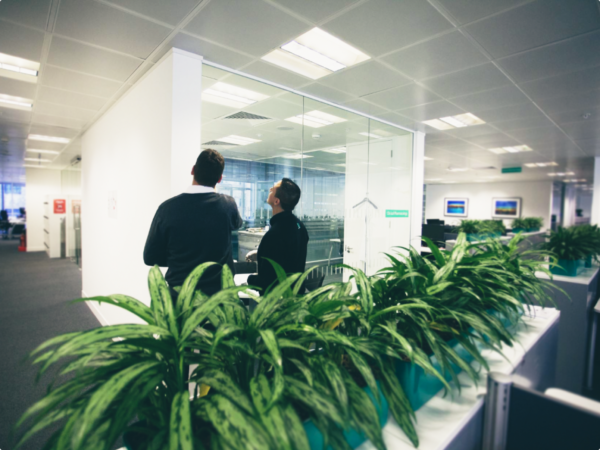 B corp certified
What does it mean?
NuServe is proudly B Corp, being one of the few B Corp certified facilities companies in the United Kingdom. In addition to financial decisions, we are legally bound to consider the impact of our business decisions on our people and the planet in a transparent and accountable manner.
Read our first Positive Impact Report to learn how NuServe is making the world better for our workers, customers, suppliers, communities and the environment. In this report we aim to measure and highlight our ongoing commitment to both people and planet, as well as identify areas of improvement.
Our social impact
Apprenticeship scheme
Our apprenticeship scheme offers a route into employment for enthusiastic young people. Through the scheme we provide valuable experience on the job and our apprentices become valued members of the NuServe family.
Diversity and Inclusion Council
Diversity and inclusion are central to our company culture, as evidenced by a workforce that hails from 30 different countries and speaks 18 different languages. We have a D&I Council, which is responsible for ensuring colleagues from all backgrounds are afforded equal respect and opportunity.
Training
Training is essential for the career development of our colleagues and the quality of service we provide to clients. In 2021, NuServe staff completed 1,122 hours, 41 minutes and 46 seconds of training to help grow their careers and develop their skillsets.
Volunteering
We encourage our colleagues to take part in a degree of volunteering as part of our commitment to our local communities. To date, NuServe employees have completed over 40 volunteer hours with Royal Trinity Hospice at its charity shop clothing depot in Balham.
Living Wage Service provider
We believe that everybody should be able to improve their living standards through work and we know from experience that people who are treated well and paid fairly are more committed, loyal and professional. That is why we are a registered Living Wage Foundation.
Procurement
We are very careful about where we source all our supplies and aim to use recycled products wherever possible. For example, we purchase our managers' shirts from Royal Trinity Charity charity shops, a decision that benefits the environment and Londoners in end-of-life palliative care.
Environmental impact
Ethical sourcing
We seek to minimise our impact on natural resources by prioritising recycling and renewables in our sourcing. For example, the paper we use is either sourced from sustainable forests certified by the Forest Stewardship Council or 100% recycled, and all our electricity is from renewable sources.
Sustainable procurement
We avoid the use of harmful chemicals by choosing powerful enzyme and plant-based cleaning products that don't cause damage to the environment or harm the people who come into contact with them.
Electric fleet
We have embraced the environmental benefits of electric vehicles to get our people around on clean energy. Currently over 60% of our fleet is electric and that will soon rise to 100% when the leases on the remaining vehicles expire.
Planting trees and protecting rainforests
We have planted 500+ life-sustaining fruit trees on behalf of our clients and are now purchasing acres of rainforest for all new clients.
End-of-life processes
With waste from electrical and electronic equipment (WEEE) being one of the fastest growing waste streams, NuServe is taking responsibility for the end-of-life processes of all our cleaning and office machines.
Cycle scheme
We are piloting a Cycle Scheme programme to make it easier, cheaper and more environmentally friendly for our staff to get to work.
We are also certified with Planet Mark
Every year we offset our business's carbon emissions by planting trees through the World Land Trust. Through the Planet Certification scheme, we are currently rated as carbon neutral and we have committed to achieving net zero by 2030.
Career development
To match the career development ambitions of our colleagues, we have in place a comprehensive suite of City & Guilds endorsed online training courses. These are delivered via UhUb, a mobile first e-learning system, which has a live reporting function that enables us to include training dates and skill gaps in our monthly reports.
Uhub also has the ability for quizzes to be taken in five different languages, which opens the content up to employees for whom English is not their first language. We can also use the platform to quickly distribute specific training lessons when a matter becomes urgent.
For example, in March 2020 we were able to publish and distribute a video to all our employees to provide Covid awareness training.
Colleagues are incentivised to complete their training goals with a prize draw scheme, whereby the prizes become bigger and better the further they progress. And it's working. As of Feb 2021, despite the pandemic, we became uHub Gold Engaged, meaning over 90% of our workforce have completed all core modules within the 'curriculum'.