What is specialist cleaning?
Specialist cleaning services include any cleaning that doesn't fall under the scope of a standard commercial cleaning contract. For example, while a regular clean will include vacuuming of carpets, the heavy foot traffic endured by most workplace carpets necessitates a much deeper clean from time to time. That falls under specialist services.
These cleaning services tend to require specialist equipment and sometimes even special training, eg exterior window cleaning. Other types of specialist cleaning that you might need include IT cleaning, builders cleaning, sparkle cleaning and disinfection cleaning – particularly important since COVID-19.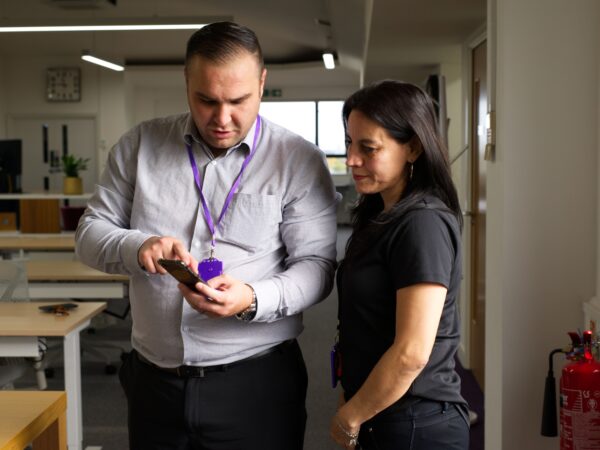 Why choose NuServe?
NuServe is a B Corp accredited commercial cleaning company with consistent customer satisfaction scores of 95%+ and rated carbon neutral by Planet Mark. That means you can trust us to provide a consistently high standard of service, underpinned by a strong, ethical company culture.
We have structured the company to enable all our people to be in the right place at the right time, identifying problems before they arise so that you don't have to. We think you'll find us refreshingly easy to work with.
What do specialist cleaning services include?
These are the most typical services that we provide under specialist cleaning. If you have any requirement that is not listed here, please talk to us about it:
Builders' cleans
Following building work, we will come on-site and clean up all the dust, paint, debris and other other mess left over from the construction, leaving your premises clean and ready to use.
Sparkle cleans
Making a building clean and hygienic to work in is one thing, making it sparkle is another step altogether. If you want to present your premises in their best possible light, a sparkle clean is the specialist service you need.
Kitchen cleaning
We are fully equipped and trained to clean commercial kitchens to a level that complies with the stringent Food Standards Agency regulations, so you pass your inspections every time.
Carpet cleaning
Bring your office carpets back to life with a deep clean. Our specialist carpet cleaning service will remove ground-in dirt and stains, leaving your carpets looking and smelling fresh.
Window cleaning
If you want the simplicity of keeping your window cleaning contract and commercial cleaning contract in one, we can provide a specialist window cleaning service to keep your windows sparkling inside and out.
Disinfectant cleaning
Since COVID-19, the demand for disinfectant cleaning has become more widespread. We are experienced in carrying out disinfectant cleans in all sorts of premises where a germ-free environment is paramount.
Specialist cleaning services
Our process
1

Get in touch

Ready to reclaim your day? Take the first step by getting in touch to book an introductory call/meeting so we can understand your requirements.

Get a quote

2

Get your proposal

At no expense and with no prior commitments from your side, NuServe will submit a high-level cleaning proposal for your building.

3

You decide

With our proposal to hand and no hidden fees to worry about, you can make your decision with all the facts at your fingertips.