Why use NuServe's commercial cleaning services?
A top class cleaning service provides numerous benefits to any commercial organisation, including higher employee satisfaction, retention and productivity. Our approach is to make your life easier by taking care of all aspects of your cleaning requirement and communicating with you, via a dedicated Account Manager, in a way that keeps you informed without having to constantly supervise.
As the UK's first B Corp cleaning company, our track record for sustainability and individual welfare is well proven. Through our commitment to minimising our impact on the environment and paying the Living Wage, we can help you meet your targets, as well as meeting our own.
With over 25 years of experience, NuServe has built a reputation as one of the most reliable and professional commercial cleaning companies in the UK. With bases in London, the South East and the West Midlands, we are always looking beyond the way we do things today to find new ways to improve the service we offer.
We make sure our colleagues receive regular training and all feel part of the NuServe family, which in turn engenders their loyalty and dedication. A large proportion of our colleagues have been with us for over five years and are highly motivated and skilled, which all feeds back into the consistent quality of service we are able to provide.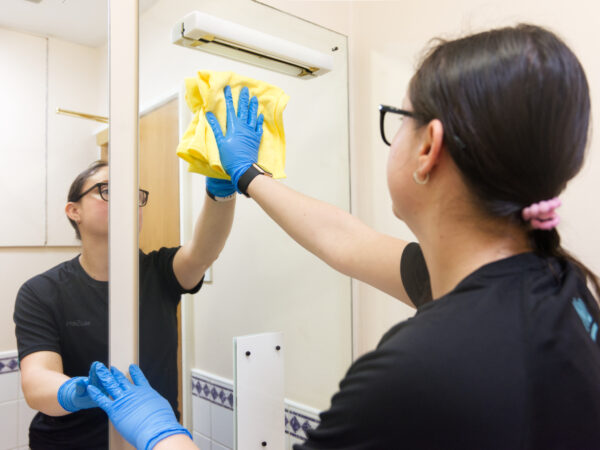 Giving you peace of mind
NuServe is a B Corp accredited commercial cleaning company with consistent customer satisfaction scores of 95%+ and rated carbon neutral by Planet Mark. That means you can trust us to provide a consistently high standard of service, underpinned by a strong, ethical company culture.
We have structured the company to enable all our people to be in the right place at the right time, identifying problems before they arise so that you don't have to. We think you'll find us refreshingly easy to work with.
What do commercial cleaning services offer?
Among NuServe's commercial cleaning services are:
Our process
Book a meeting

Ready to reclaim your day? Take the first step by getting in touch to book an introductory meeting, where we can learn about your workplace cleaning needs.

Get your proposal

At no cost and with no commitments required from your side, NuServe will submit a high-level cleaning proposal for your building.

You decide

With our proposal to hand and no hidden fees to worry about, you can make your decision with all the facts at your fingertips.