My mission to reduce office waste
I'm Zac, the youngest of the NuServe team, and like most of my generation I value working for a company with an ESG ethos.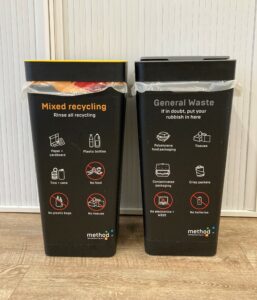 Recently I have become interested in waste, as one of our support service offerings and because of the massive impact it has on our planet- UK households throw away 1 tonne of waste each annually. Considering this, I have been watching the general waste bin in our London office and it is humbling to admit but as a company need to improve our recycling skills.
So, I have taken it upon myself to educate myself and my colleagues about the issue of waste, and how we can improve in a campaign I am dubbing: #recyclingdoneright. 
The image on the right shows our modest method bin setup at the London NuServe office. If you can't find method bins in your office, it's likely you may not be recycling properly.
What happens to the contents of our bins?
Most of us are adept at recycling at home- 9 out of 10 UK households do- but in the workplace, time restraints and convenience can easily lead to bad habits and shortcuts.
At best, the contents of an office general waste bin are sent to energy recovery where they are burnt to produce energy. More often, however, it is send to landfill where it emits greenhouse gasses and contaminates our soil and drinking water.
The five steps of sustainable waste management
To overcome the problem of waste, the five R's of recycling can help us. In order of most to least preferable, these options are all better than putting your item in general waste:
Refuse– say no to any items you don't need
Reduce– reduce the amount of waste you create by making small switches
Reuse– reuse items you would otherwise throw away
Repurpose– do a little bit of DIY and turn your would-be waste into useful items
Recycle– sort your waste into the correct recycling bin
In business, similar principles of the Waste Hierarchy are followed:
Prevention – preventing and reducing waste generation
Reuse– re-using items for a new purpose
Recycle – processing waste into new products or materials; this includes composting
Recovery – incinerating waste to produce energy
Disposal – other processes to dispose of waste
Preventing waste in the workplace
As explained, the best way to cut down waste is to follow the first principle of the waste hierarchy- preventing the generation of waste in the first place (equivalent to refuse and reduce of the five Rs).
In an office environment, this will largely be decisions about procurement.
What do these procurement decisions look like in practice? Here are actionable ideas you can start using today:
Keep the office kitchen stocked with mugs, coffee, and cutlery in good condition to encourage a culture of brewing in the office, as opposed to takeaway coffee
Implement a 'think before you print' policy to cut down on unnecessary paper waste
Encourage staff to bring lunch to work in Tupperware
Pay attention to the suppliers you work with- packaging accounts for half of the 300 million tons of plastic waste produced annually
Be aware of your digital carbon footprint- discourage excessive and unnecessary email sending
The last point touches on a concept we at NuServe believe is often overlooked.
According to Carbon Literacy, a single email costs roughly 4g of carbon to send, and further produces emissions the longer it sits in your inbox. While the digital world may feel intangible, the sending of every like, photo, and message is facilitated by data centres– global email usage amounts to the CO2 equivalent of having 7 million extra cars on the road annually.
The carbon footprint of sending an email is still drastically less than that of a paper letter, about 1.7% of the emissions, but simple actions like not replying all, unsubscribing from irrelevant newsletters, and deleting old emails all add up.
How to get use out of reuse
So, what about the waste is impossible or impractical to reduce?
Try the next best rung on the waste hierarchy- reuse items.
This can be by restoring what is cosmetically damaged, finding a new purpose for unwanted objects, or by factoring reusability into your procurement process- here are some tips:
Get your blemished office furniture repolished, repainted, and repaired
Consider refillable cleaning products- NuServe uses the Toucan system which creates a powerful, chemical-free disinfectant by 'charging' salted tap water, all on-site!
Keep intact packaging to use as storage
Charity shops can work wonders for uniforms- the NuServe team was able to find brand new, unsold designer shirts for our managers at a fraction of the retail price with Royal Trinity Hospice charity shops
Use reusable bags, containers, and packaging to deliver your products where possible
How to recycle in the office
Finally, recycling.
As the majority of waste items we find ourselves with such as food packaging and broken electronics have little re-purposing ability, recycling will often be the best option for the waste we find hard to cut down.
The key points about recycling are that it must be correctly sorted and uncontaminated.
In practical terms, this means putting your waste in the appropriate bins and cleaning items of dirt or food residue- if in doubt, put it in general waste.
Method bins, like in our London office, are a recycling essential in the office. They will tell, and show, you which waste goes where, and if followed correctly will help your business segment waste streams ensuring your waste gets recycled; just one piece of incorrectly sorted rubbish can contaminate an entire bin of recycling, sending your efforts straight to landfill.
What you can put into your recycling will largely depend on which recycling streams your office facilitates, but paper, metal, and hard plastics are near-universally accepted. Of course, the more recycling streams you can process, the better.
NuServe works with our clients to identify new streams of waste that they could be recycling- did you know that coffee grounds and human hair can be recycled?
If you're looking for sustainable waste management services from a B Corp accredited cleaning company, get in touch. 
NuServe's Marketing Assistant Apprenticeship
Zachary Hayes Li was employed by NuServe in September 2021 for an 18-month apprenticeship via Triple A Training, this was a milestone for the company as we'd never had an apprentice before.
As part of his final apprenticeship project, he elected to focus on waste in the offices. NuServe is extremely proud to state that Zac achieved a distinction for his final project #recyclingdoneright. 
"Zac is an excellent copywriter and very thorough individual, he has enabled NuServe small marketing team to reach new heights." – Georgina Lockwood, Zac's line manager.
We made the strategic decision to keep Zac on for a further eight months as our Marketing Intern.