When last did you thank your cleaner?
THANK YOUR CLEANER DAY is the perfect opportunity to show (or tell) your cleaners how much you appreciate them. This significant day in the facilities calendar takes place annually on the third Wednesday of October.
Unfamiliar with the day? Don't fret- NuServe will cover the basics of the initiative, its origins, and importance, and how you can take part.
Thank Your Cleaner Day 2023
Get Wednesday 18 October 2023 in the diary, it's a day created to shine a much-needed spotlight on the often hidden cleaning teams working unsociable hours to keep the places we use every day spik and span! Every simple gesture goes a long way so let's say and show our thanks on Thank Your Cleaner Day.
Why is Thank Your Cleaner Day important?
Sometimes they are the treasured housekeeper and valued member of the day-to-day workforce, but more often than not, cleaning teams are hidden figures working red-eye hours to get the job done.
Who vacuums the office carpet, who wipes the desk tables, and who refills the bathroom soap dispensers? An operative's work may not always be visible due the unsociable hours they work, but it will be glaringly obvious when an office has not been cleaned.
Furthermore, employees who are acknowledged are also more loyal, take more pride in their work and are more willing to go the extra mile.
How can your business take part in Thank Your Cleaner Day?
So, we've explained the importance of celebrating this initiative, but how can you take part? Here are a few ideas you can use to show your cleaning team gratitude:
1. Leave thoughtful messages
Allocate part of your staff notice board to leave kind messages for your cleaners on Wednesday the 18 October.
2. Write a card
Ask your office staff to collaborate on penning a thank you card addressed to your cleaning team. Remember, it's not the size of the card that matters – it's what you write inside!
3. Bring in sweet treats
Bring 'thank you' chocolates, biscuits, cake, or sweets to the breakroom- you might want to add a 'for the cleaning team only' label!
4. Get gift vouchers
Get your team small gifts or vouchers each as tokens of appreciation.
Display the attached TYCD poster to create awareness amongst your own staff so that they can personally thank their cleaner/s on that day.
Every gesture, no matter how big or small, counts.
Thank Your Cleaner Day 2022
Thank Your Cleaner Day 2022 landed on Wednesday 19 October, 2022. Amidst the cost-of-living crisis, it was more important than ever to show our gratitude to the operatives vacuuming, dusting, wiping, sweeping and disinfecting our buildings to keep your office, school or hospital running in mint condition.
Thank Your Cleaner Day 2021
Cleaners were the unsung heroes of the pandemic; it is thanks to their hard work that employees could return to their place of work in safe and germ-free environment. Here are some photographs from our 2021 Thank Your Cleaner Day effort; just as everyone returned to the office: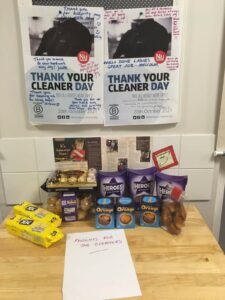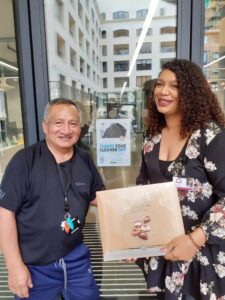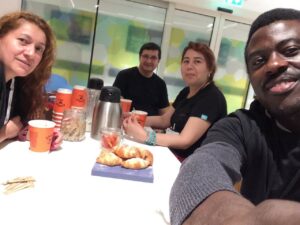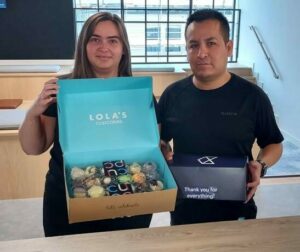 More about Thank Your Cleaner Day
Originating in New Zealand, Thank Your Cleaner Day was born when the local trade organisation for Building Services Contractors (BSCNZ) teamed up with Kärcher to recognise the important and often taken-for-granted work of cleaners.
The initiative was started in 2015 and was first acknowledged in the UK in 2019. It has grown annually in size and scope to currently being recognized in over 30 countries by an array of organisations. You can visit the Thank Your Cleaner Day website for more information.
While Thank Your Cleaner Day is confined to one day, showing your appreciation to operatives should be an ongoing process.